This system can measure greenhouse gases and pollutants present in the atmosphere in actual fields or city streets.
Open-Path is used to measure greenhouse gases and pollutants present in the atmosphere in the field. Open-Path emits light from the light source from the telescope, and the light reflected by the corner cube type reflecting mirror set at a horizontal distance and set ahead several hundred meters is collected again by the telescope and detected by a detector Measure the gas concentration. Multi-component quantities of atmospheric trace gas concentrations in the optical path can be determined simultaneously, and the wide distribution state can be observed in the natural state.
How the OpenPath system works
Exit the infrared interference light of the FTIR body from the Newtonian telescope. The light reflected by the corner cube reflector installed at a horizontal distance of about 10 to 500 m is again collected by a telescope, detected by a detector, and subjected to Fourier transform processing to measure the gas concentration in the atmosphere. Multiple components can be quantitatively measured simultaneously with the average gas concentration of atmospheric trace gas together with CO 2 and H 2 O.
Figure 1 Schematic of measurement
Figure 2 Configuration of OpenPath device
Software Features
Quantification
As a method for quantifying the multicomponent measured by Open-Path, there are a method of simultaneous multi-component quantification by a calibration model of component gas registered in advance by CLS (Classical Least Square) quantification method which is one of multivariate analysis, The method of simultaneous quantification from the peak intensity calibration curve of When using unique peaks by individual gases, gas components can be selected according to the environment and purpose.
The figure below is an example of multiple component simultaneous measurement program. The continuous measurement result and its graph are displayed on the screen, and the original spectrum at the specified time is also displayed at the same time.
Measurement example
Measurement of motorcycle exhaust gas
We measured CO gas in motorcycle exhaust gas at a horizontal distance of 90 m. If the state without exhaust gas from the motorcycle is blank, the CO gas concentration is displayed as 4.5 ppm. Other gas concentrations are analyzed as CH 4 : 5.4 ppm, CO 2 : 240 ppm, and others.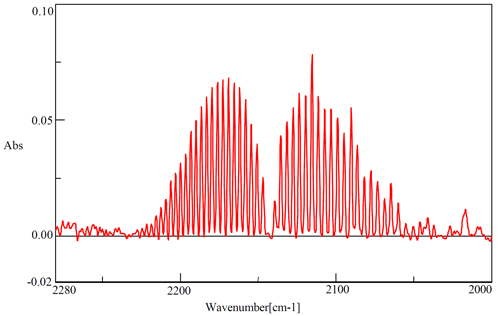 Measurement of methane gas
It is a continuous measurement example of a day and night on a farm. The measurement distance is about 200 m in round trip. It can be confirmed that methane gas concentration is changing from nighttime to dawn. A change of 1 ppm or more has been confirmed by the concentration difference.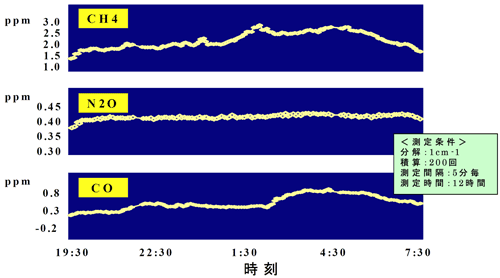 Australia Freephone
1800 00 84 53
sales.au@bio-strategy.com
New Zealand Freephone
0800 34 24 66
sales.nz@bio-strategy.com
Bio-Strategy PTY Limited
MELBOURNE (HQ)
8 – 10 Trade Park Drive
Tullamarine, VIC 3043
Australia
BRISBANE
2/7 Miller Street
Murarrie, QLD 4172
Australia
Bio-Strategy Limited
33 Westpoint Drive
Hobsonville
Auckland 0618
New Zealand
Advanced Analytical Solutions For Your Science