Compact HPLC EXTREMA 4500 Model
EXTREMA 4500 Models is a conventional HPLC that aggregates the technology cultivated with EXTREMA 4000 Models into a compact casing with a width of 15 cm. It is a modular type that allows flexible system construction, and it also has extensibility such as gradient liquid transfer and automatic analysis. An LCD panel is provided on the front side, and it can be controlled by the unit alone. For control and data analysis on PC, you can use ChromNAV Ver.2 of Japan Spectroscopic Chromatography Data System which is excellent in operability.
Space saving of installation area
The EXTREMA 4500 Model is a compact design with a width of 15 cm, making effective use of lab space.
Comparison of module size LC 4500 module vs other pumps: 
 Flexible system construction
Corresponding to various liquid transfer / injection methods, it is possible to build a system according to the application. 
Combined with the conventional EXTREMA module, it supports a wide range of applications.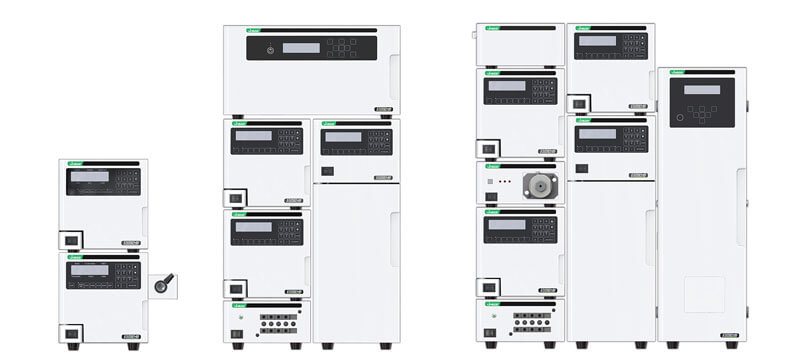 Easy input with numeric keypad
With the operation panel with numeric keypad, operation with module alone can be performed easily.
HPLC pump operation panel
HPLC pump PU-4580
Feed pump which is most suitable for conventional analysis, with various optional units corresponding to a wide range of analysis. With easy replacement of expendable items by front access.
Autosampler AS-4550
Compatible with various injection modes (dilution, pre-column derivatization method). Supports various sample vials, with a sample temperature control unit that can be mounted (4 to 40 ° C: optional)
Optional rack for various containers *
For Eppendorf tubes, 
300 μL for vials, 
600 μL for vials, 
For 96-Well microplates.
* Sample temperature control unit compatible type is also available.
50 standard sample racks can be installed with 2.0 mL vials (sold separately)
UV-Visible Absorbance Detector UV-4570
Measurable from ultraviolet to visible region (190 to 900 nm) with e
nhanced options such as microcell unit and s
pectrum measurements on flow.
System control with ChromNAV Ver.2
ChromNAV Ver.2 is a chromatographic data system with excellent operability. From control of the entire system to analysis of measurement results and data management, we will pull out EXTREMA's performance without fail. ChromNAV CFR Ver.2 with enhanced data integrity is also available.
Number of flow channels: 4 (extendable to 5 flow channels)
Low pressure gradient unit LG - 4580
Number of solvent: 4 liquid
Analysis mixing unit MX - 4580 - D
Number of solvent: 3 liquid
Manual 2 Solvent switching valve unit LV-4580-02
Number of flow channels: 2 
* Mounting panel (option) is required separately.
Maximum number of storage bottles: 5 (in the case of 500 mL Duran® bottles) 4 at maximum (in case of 1 L Duran® bottle)
1L bottle installation example (Duran® bottle is sold separately.)
Duran ® is a registered trademark of the German Duran Group.
Standard loop: 20 μL (Loop capacity can be changed by option)
Left: 7725i, Right: Installation example (panel optional)
HPLC pump
Model

PU-4580
Flow setting range
0.001 to 10.0 mL / min (0.001 mL / min step)
Flow rate accuracy
Among the set value ± 1% or ± 2 μL / min whichever is greater (0.5 to 10.0 mL / min)
Flow precision
0.05% RSD or ± 0.04 min SD whichever is larger (0.5 to 5.0 mL / min, designation condition)
Maximum working pressure
50 MPa (~ 6.0 mL / min) 
35 MPa (~ 10.0 mL / min)
Autosampler
| Model | AS-4550 |
| --- | --- |
| Injection method | Fixed loop method and variable injection method (sample loss zero possible) |
| Injection amount setting range * | 0.1 ~ 200 μL (0.1 μL step, 1 μL step (100 μL ~)) |
| Sample loop | 100 μL (standard) |
| Number of sample specimens | 50 (standard, 2.0 mL vial) |
| Maximum working pressure | 35 MPa |
* Replacement of sample loop etc. is necessary depending on injection volume. In the case of the fixed loop method, only loop volume injection is required. 
 For the variable dose injection method, the linearity range of the injection volume is 50 to 60% of the capacity of the attached sample loop.
UV-Visible Absorbance Detector
| Model | UV-4570 |
| --- | --- |
| light source | D 2 lamp, WI lamp |
| Wavelength range | 190 - 900 nm |
| Noise level | ± 0.3 × 10 -5 AU (designation condition) |
| Drift | 1.5 × 10 -4 AU / h (specified condition) |
Australia Freephone
1800 00 84 53
sales.au@bio-strategy.com
New Zealand Freephone
0800 34 24 66
sales.nz@bio-strategy.com
Bio-Strategy PTY Limited
MELBOURNE (HQ)
8 – 10 Trade Park Drive
Tullamarine, VIC 3043
Australia
BRISBANE
2/7 Miller Street
Murarrie, QLD 4172
Australia
Bio-Strategy Limited
33 Westpoint Drive
Hobsonville
Auckland 0618
New Zealand
Advanced Analytical Solutions For Your Science